This post may contain affiliate links. That means if you click and buy, I may receive a small commission (at zero cost to you). Please see my full disclosure policy for details.
Time to warm up some mulled wine and watch Irving Berlin's WHITE CHRISTMAS. It is currently available on Netflix (U.S.) and can be purchased or rented on Amazon Prime Video (U.S.) through the holidays.
WHAT IS WHITE CHRISTMAS ABOUT?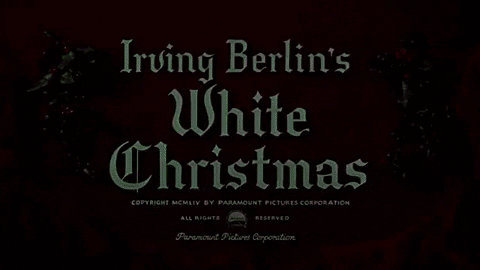 If I were to ask you what you thought WHITE CHRISTMAS the movie was all about, what would you say? Would you talk about friendship between Bob and Phil? About sisterhood? About Christmas? About romance?
I would actually propose to you that it is about our returning soldiers from the war(s). Most famously there were the 15.7 million who returned from World War Two (less than a decade beforehand) but there were also those, including my grandfather, who more recently made it home after serving in the Korean War (a year before WHITE CHRISTMAS premiered in cinemas).
UN-OFFICIAL ANTHEM OF WHITE CHRISTMAS?
Close your eyes for a moment and ask yourself – what song brings you to tears time and time again?
I cannot speak for my fellow WHITE CHRISTMAS fans but personally I believe "The Old Man" is the unofficial anthem.
While "White Christmas" is the most-recorded Christmas song in the world, it does not impress on one to embark on a mission. It may be the most famous song from the movie, earlier "Holiday Inn" (currently available to stream on Amazon Prime Video) but it urges no action. Instead, it is a nostalgic number remembering old-fashioned Christmases of old.
WHAT SONG FROM WHITE CHRISTMAS URGES ACTION?
"The Old Man" urges action. Taking into consideration the background of the three global wars that all happened in a relatively short amount of time (World War One, World War Two and Korean War), the song must have hit most moviegoers deep in the gut. They had either themselves seen death and conflict, were the family and friends of returning veterans or had personally lost someone they loved.
Although the veterans returning from Europe and Korea did not have to face the general animosity and distrust that later generations suffered after conflicts in Vietnam and Iraq among others, they still suffered from PTSD, difficulty getting their old jobs back (hence the invention of the GI Bill after the end of World War Two), and a sense of belonging as is so perfectly illustrated in HBO's The Band of Brothers (currently streaming on Amazon Prime Video/HBO) final episode.
WHO'S STORY TUGS AT THE HEARTSTRINGS?
The Major General's.
It is the Major General (Dean Jagger) who at the beginning of the movie (set in 1944)  is being relieved of his position. While the men have each other, it is the Major General who must walk off into the sunset figuratively speaking without the backing and support of his men.
With the first strains of "The Old Man", the soldiers (led by Bob and Phil) demonstrate their loyalty and devotion/support to their leader:
We'll follow the old man wherever he wants to go
We'll stay with the old man wherever he wants to stay
Based on what we see, Bob and Phil have gone on to successful careers in show business after World War Two but haven't given the Major General a second thought since. There's no mention of him even in passing on screen. Life happens and like in many contemporary cases we move on and forget those we did life with.
So talk about the surprise when Bob and Phil ten years later (ca. 1954) run into the Major General at the inn midway through the movie! He is now the owner of the inn at risk of bankruptcy due to a lack of customers. Surely this only serves to reinforce the idea that most of his men from the war have forgotten him and moved on. Otherwise would it not be reasonable to suggest they would have been bringing their families up to the inn in Vermont for the holidays?
WHAT CAN YOU DO WITH A GENERAL?
Fast forward to Bob's filmed song on the Ed Sullivan Show ("What Can You Do With a General?") and you've reached the point when the tears threaten to break free non-stop for the remainder of the movie. The romance is still a focal point in the movie but here is were we see Bob and Phil step into the roles of heroes. By thinking of someone else for a change (aka the Major General), Bob and Phil earn everlasting honor and respectability from moviegoers.
As Bob sings,
We'll take the job of assigning him.
Let's start wining and dining him.
PREPARE THOSE TISSUES
https://giphy.com/gifs/fail-christmas-crying-hIqGJxk4bNgzu
So might I humbly suggest that in honor of our friends and family who've been lost and/or returned changed due to service in the military you pick up a copy of Irving Berlin's WHITE CHRISTMAS this holiday season and consider a way or two that YOU can show your loved ones that you're thinking of them and backing them in their lives as civilians.
Even decades after the war, men and women can still suffer from PTSD (unknowingly and knowingly) and have difficulties returning to how they were before joining the military. Think of how many veterans from Vietnam and The Gulf War are on the streets struggling to achieve some semblance of normalcy.
HOW WILL YOU GIVE BACK AND SUPPORT OUR TROOPS THIS HOLIDAY SEASON?
This post is dedicated to 4 fabulous military men I love and stand behind – Dad (U.S. Army), Uncle Timmy (U.S. Navy), Robert S (Scots Guards), and Matt M (U.S. Army).
Some of my favorite pro-military (veterans) charities:
Wounded Warrior Project:  Your generous, tax-deductible donation to Wounded Warrior Project® (WWP) will change the lives of over 1 million injured warriors, caregivers, and family members. You will help bring independence back to our nation's most severely wounded veterans.
Gary Sinise Foundation: They create and support unique programs designed to entertain, educate, inspire, strengthen, and build communities.
The Armed Forces Charity (UK): SSAFA works in partnership with other military charities and specialist organizations to ensure that those who turn to us to help get the support they need.​​
SHARE THE LOVE: