It's another American Idol (80s Music) and the producers have put the audience out of their misery fast. Daniel Seavey is safe once again, America. We are just going to have to soldier on and vote extra hard for our favorites so they don't end up in the bottom.
And now for some e-jumping up and down... THE Boy George is on American Idol tonight looking superb and sounding incredible. This man doesn't age, makes you just want to get up and dance/sing, and has me searching for my Boy George mp3s.
Next safe... Quentin! He is starting to wear less distracting nose rings. Not sure if this is deliberate but a smart move - he takes risks but no need to be too distracting where we forget to pay attention to his voice. He is singing "In The Air Tonight" and his intensity and vocals are stronger than last week for sure. I completely agree with the judges - Keith calling it "killer" and JLo saying it was "crazy".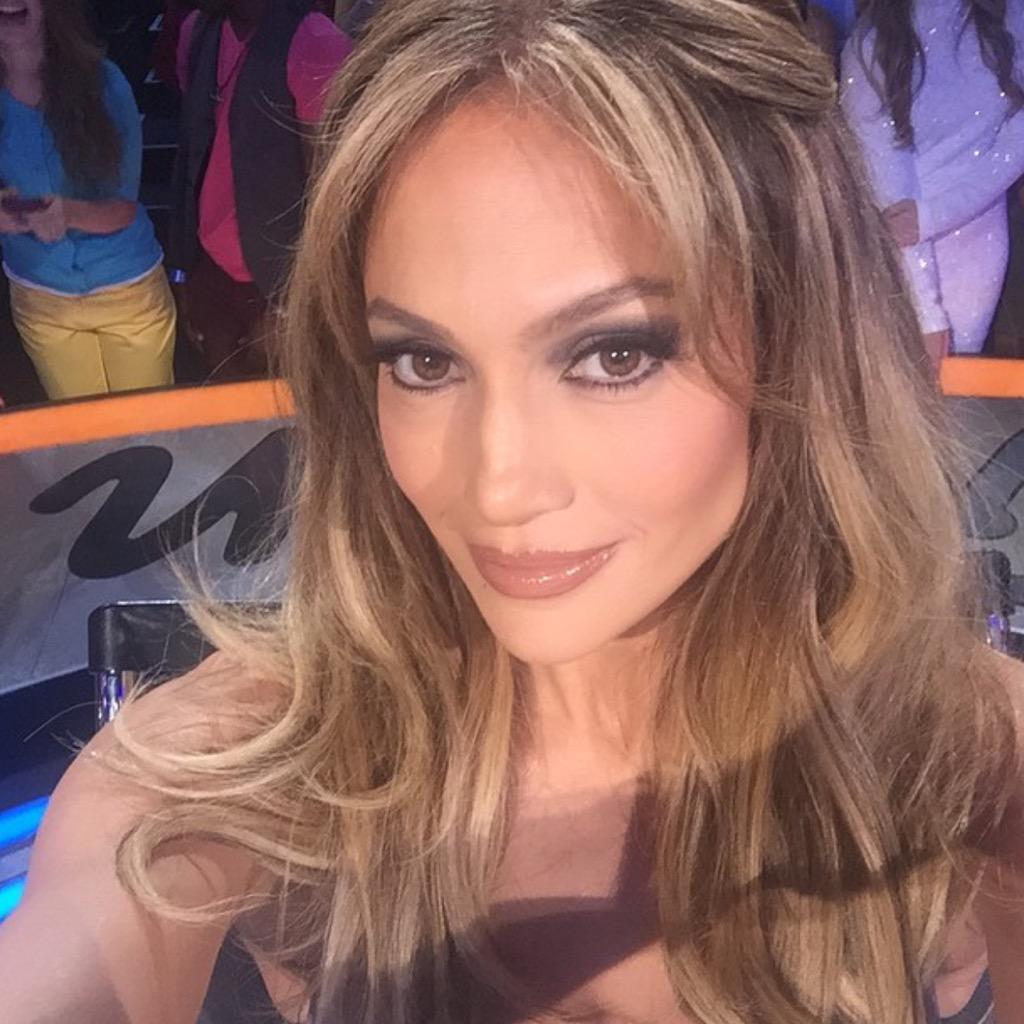 (c) JLo/Twitter
While they take a commercial break, let's take a moment to say how gorgeous JLo looks. LOVING the hair, makeup and outfit choice.
Yay! My girl (favorite)
Joey Cook
is through and I love her reaction to meeting
Boy George
. Joey's outfit screams the 80s + her personality. She obviously had fun singing "
Girls Just Wanna Have Fun
" but was it her strongest performance? No. I just hope that she doesn't lose votes this week because of her song choice.
So if you are a fan of Joey Cook, be sure to get out and vote!
And can I please join Joey and Boy George for a hug and cup of British tea? Made me love her even more seeing her with Boy George.
I had fun with you, Joey!
And
Tyanna Jones
is up next! Singing a
Whitney Houston
song has me worried a bit. She overreached last week so here's hoping. Her vocals are solid but this is too karaoke-ish, me thinks. Her high notes are pure fun for sure, tho. Positive praise from the judges who are encouraging. She definitely deserves to stay next week but with Daniel S. likely to be saved once again, she needs to fight a bit harder.
Thank God, Jax is safe! With two eliminations tonight, you never can tell who is safe but we definitely haven't seen enough of Jax yet. That smile of her's is so contagious. Great advice from Boy George! So what of her performance of Bon Jovi's "You Give Love A Bad Name"? I personally enjoyed it. She made the number her own and it was great seeing her on piano and the way she flirted with the camera and teased those lyrics. Well done, girl!
As for the judges - I def. agree that she would have been better without the band. But bravo, girl! Fans of Jax, be sure to vote! None of our favorites are guaranteed safe.
Kelly Clarkson next week, ay?
And it's Nick Fradiani up next. Phew. (Seeing him fail at the skip ball - o gosh, lol. I loved my skip ball.) He's chosen "Man in the Mirror" and for the most part his vocals are strong and it seems he gave his all to that performance. The girls in the audience seemed to enjoy it and Harry called it an "absolute perfect song choice". Yes, Harry, he is humble and a "sweet, kind soul" comes across. Hopefully the constant talk about his good looks won't turn potential voters off.
That might have been my favorite of your performances, too, Nick!
Anyone else wondering what Quentin, Nick and Joey are going to be singing from the Kelly Clarkson songbook next week? Should be "interesting".
Did you hear that, Boy George fans? He is touring in America this July.
What the heck? Who are "Salt n Pepper"? They're ruining "Push It". Cameramen maybe you should focus more on Harry Connick, Jr.'s improv moves, lol. I might be in the minority though because acc. to Twitter people are loving the performance.
Only 3 more spots left... Who's safe? Hoping Qaasim and Clark are safe. And it's Clark Beckham up next, ladies and gents, in a white tee and black vest. Nice look for him. (He's never seen a Lite Brite before? Oye.)
His version of "Every Breath You Take" on piano was stripped down, intimate and frankly my favorite of his thus far. It really allowed him to show off his vocals and musicality. I suddenly have a visual of him and Harry Connick, Jr., doing a duet for the finale. The judges gave excellent praise and he definitely deserves to be back next week.
Best performance tonight (thus far): Clark Beckham
Weakest performance tonight (thus far): Daniel Seavey
Next up - Qaasim Middleton. I'm glad to see the save did not go to waste. Was the microphone drop repeat supposed to help him win votes? Hmm... He's singing "Addicted to Love" and I am hoping for a less dramatic/zealous performance. He is a "great storyteller" like Boy George said but those facial expressions can be a bit too distracting. My wish came true - he focused on his vocals this week but are they strong enough to keep him in the Top 8? The competition is stiff. Keith wants to hear something even more vulnerable if he's here next week.
So who stays? It seems a toss up between Rayvon and Adanna based on last week's performances. Unfortunately Maddie's performance last week pretty much guarantees she is going home this week. I hope she is able to get another shot at her music, she's talented, sweet and a very pretty girl.
And the last one in to the Top 9 is...
Rayvon Owens.
Interesting... no more country contingency on the show. Wow, he didn't know who Alf was?
He's singing "Everybody Wants to Rule the World" and his lack of chemistry with the mentors was very interesting... Keith wanted him to own the stage and while he has a smooth voice he is perhaps one of the more forgettable singers at the end of the day. Was it the nerves from being in the bottom or just not Rayvon's best night? It was a fine performance but I wonder if he'll be in the bottom again, especially seeing that he didn't take the mentors' recommendations.
Predictions:
So, strongest of the night? Clark Beckham
Weakest of the night? Daniel, Rayvon and Qaasim
Most likely going home? Rayvon or Qaasim
x