If you are like me and jump at an opportunity to experience and learn something new (or recently relaunched) then have I got a treat for you!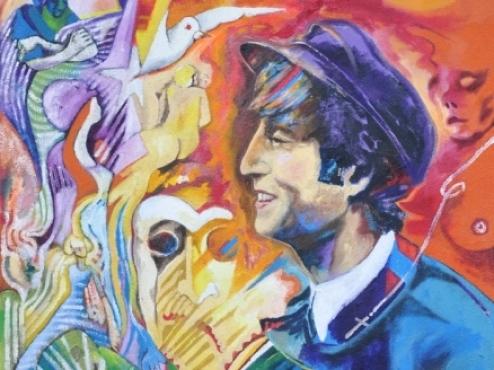 © David Vaughan (link)
When I found out on
Instagram
about a recently opened art exhibition, I took to
Google
and was surprised at the lack of information to be found aside from a minor inclusion in
Time Out
listing the times and dates for the exhibition
and an
article in the Guardian
on the 11th of May, which was more intent on talking about the man's relationship with a Ms.
Sadie Frost
, his daughter, and
Ray Davies
(owner of
Konk Studios
) then on Mr. Vaughan's art career or the exhibit itself. It was noteworthy though that the exhibition was curated by his children alongside Mr. Davies.
Perhaps those two connections alone will attract an English(wo)man to the exhibit but for my friend, Natasha, and myself, those names meant nothing but we were intrigued as you might be too that according to
Wikipedia
Mr. Vaughan had painted murals, furniture and posters that were collected by the likes of
Princess Margaret
and
the Beatles
and his work was used by
David Bailey
for one of his own acclaimed series.
© David Vaughan (link)
So after confirming with the office at
Konk Studios
that the exhibition was open from 4pm-8pm on Monday the 12th, Natasha and I made the journey from West London eager to check out the exhibit and learn about Mr.
David Vaughan
.
and boy what an adventure it was!
Yours truly with Natasha on Church Lane.
The exhibition space is located at
49 Church Lane
(
in the back of the studios
) on a residential street and if you are looking for a gallery that stands out from amongst the other buildings you could get quite lost but there is a sign above the door that says "Konk" and upon arriving you need to ring the door bell for admission.
49 Church Lane
Unfortunately for us there was nobody working the exhibit although it was a quarter 'til five when we arrived. I called Linda (the very nice lady from the office who'd answered my query earlier about the exhibit) and she said the exhibit worker had never arrived and would it be possible for us to come back another day. After making an hour journey from West London I was not too happy about that idea and she suggested we come back after six to see if the worker would have arrived by then. We girls found this very interesting coming from volunteering at the small-medium sized likes of
Handel House Museum
and
Camden Art Centre
so our curiosity was further piqued and we decided to grab a drink at the local pub for the next hour.
Natasha.
At 5:19 p.m., Linda e-mailed me to ask if we could come back for a whistle-stop tour of the exhibit before she had to leave at 6 p.m. which I thought was extremely accommodating and considerate of her considering she works in the actual music studio (not the exhibition room) so we gratefully took her up on her offer and were thoroughly impressed on the exhibition room - great lighting with two skylights, ample space for the ~20 pieces of art that hung on the walls without feeling cramped, and a bar was in the corner that most likely is used for private viewings and parties. The work on display was varied and apart from a very lengthy and impressive CV for the late
David Vaughan
that was laid on a display table there was no text in the room.
We made it inside! :)
We both thanked Linda for her kindness in letting us in and she suggested if we wished to return for a lengthier viewing to contact Alma, the lady who should have been at the exhibit this Monday to confirm that it will be open.
So after all that excitement, would I recommend the exhibition?
Yes, with the strong caveat that you contact
Alma
before making the journey in case it is closed again.
Opening Dates/Times:
Monday-Friday, 4pm-8pm (closing on 6 June 2014)
Address:
49 Church Lane, Crouch End N8 7EE
Nearest Rail:
Hornsey
Best Bus Route:
41
Before Your Visit:
In addition to contacting Alma, if you are unfamiliar with the late David Vaughan's work (like us) you will want to familiarise yourself with his story as there is no text in the gallery (aside from the CV). Unless you are interested in celebrity connections, I would avoid the
Guardian write-up
which only left me confused (perhaps its just me, lol) and instead read the
Wikipedia biography
or check out the David Vaughan website's "
Vaughan's Career
" page.
It is definitely a noteworthy exhibit that should be visited if you have the time to honour someone who was a founding member of the British underground art scene in the early 1960s.
Do let me know if you visit the gallery. I'd love to hear your thoughts!